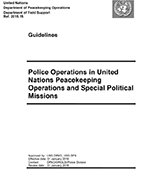 The United Nations police are frequently tasked with an operational support role to the host-State police service and other law enforcement in addressing threats such as serious and organised crime, terrorism and corruption. In some cases, however, the United Nations police are also authorised to assume partial or full executive policing responsibility, such as conducting investigations, special operations and maintaining public order while the host-State police and other law enforcement agencies regain functional self-sufficiency.
By defining a standardised set of principles and concepts the Guidelines on Police Operations assist mission planning and operations for United Nations police operations amid an expanding portfolio of tasks. The guidelines also detail the linkages with other mission components, as well as informing host-state police with a clear overview about how the United Nations police implements mission mandates.
The thematic consultation for the development of these Guidelines took place in Langfang, China, in June 2014. Organised by the United Nations and the Ministry of Public Security of the People's Republic of China, the event brought together experts from Member States, regional and subregional organisations as well as academia and think tanks. 
The document includes guidance on conducting investigations, using criminal intelligence, or supporting the host-State police and other law enforcement in the conduct of these roles and responsibilities. The guidelines outline procedures for special operations and ensuring public safety, based on United Nations policing strategies that are oriented towards serving the community. As United Nations police peacekeeping differs fundamentally from domestic policing, the guidelines offer access to the approaches, concepts and principles for how United Nations police conducts operations.